How to enter Bulgaria - new regulations in effect from 01.02.2022.
Dear friends,
We are happy to share that the big enduro riding RESTART is on the way.
After two years now we're welcoming you again with brand new bikes, loads of enthusiasm and of course, endless passion for ENDURO!
And let's the ride begin - 2022!
11 reasons to choose us:
The most experienced enduro tours company in Bulgaria, operating since 2012;
The only official partner of KTM Adventure Tours since 2013, running their tour in Bulgaria;
Customized tours Bulgaria, Greece and the Balkans region;
Brand new KTM bikes, model 2022;
Over 750 tours implemented;
Over 5000 happy enduro riders;
Tours for all riding levels;
Proffessional tour guide and mechanic with more than 12 years of experience with groups, master degree in Motorbikes sports, English, German, Italian, Russian speaking;
24/7 organizational support;
Riding tips and training;
Locations providing one of the best ever tracks for enduro riding, wild nature and endless kilometers of riding.
Bulgaria, Greece and the Balkan region in general offer 4 seasons perfect for your riding passion. If you need more riding after the end of enduro season in October or you want to take a ride after New Year 's Eve – Bulgaria and Greece are the right locations. Combining 4 different types of climates our land offers non-stop riding possibilities.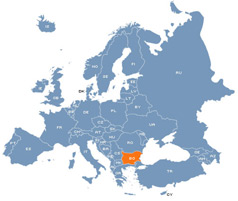 Summer enduro – challenging tracks through the fresh mountain landscapes; Spring & Autumn enduro – wherever you take a look you'll find a path for you and during the Winter time you can enjoy hundreds of kilometers in the surroundings of South Bulgaria and Greece.
"No limits" is the feeling you'll experience a few hours after your arrival. Excluding our marvelous National Parks and Natural Reserves you can enjoy the enduro riding without any limitations. Rocky terrains, rivers, sandy soils and a lot of mud and dust – these are only few of the terrains available in the region, giving you endless fun and lots of challenges.
» Useful information about Bulgaria
We provide all our guests with the new model 2022 KTM bikes
The team of Enduro Camps Bulgaria knows how important is to have a bike that you can rely on in each moment of your ride. That's why we provide all our guests with 2022 brand new KTM bikes, EXC series, 2 and 4 stroke.