€ 830 (4* SPA hotel Rich enduro tours)

Duration: 7 nights Options available also for: 7 nights
Program: 5 days riding + 1 day free

Arrival\Departure: Sofia
Average Km per day: 90 - 120 km
Duration per day: app. 7 - 8 hours
Price for bike rental: 520 euro
Difficulty:
1
\
2
\
3
Tour Info
Location: Rhodopi mountains area
1st day
Arrival to Sofia. Transfer from the airport to Velingrad (Tha SPA capital of Bulgaria) - app. 2 hours
Briefing.
Welcome dinner.
2nd, 3rd, 4th, 6th, 7th day
Breakfast in the hotel
Round trips riding in different parts of the mountain Rhodopi; visit of ancient tradional Bulgarian villages.
Lunch in small village restaurants or open air.
Back ride to the starting point using variety of tracks and routes.
Dinners in the hotel / fish restaurants.
5th day - Relax day
*The lunch during the free day is not included in the price.
8th day
Breakfast & Farewell coffee
Transfer from the hotel to the airport
Departure
Accommodation
4* SPA hotel Rich enduro tours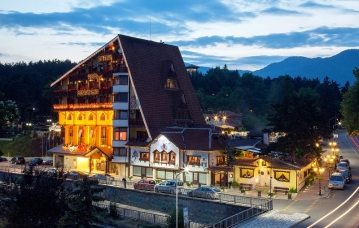 Spa hotel Rich is a boutique hotel and а leader in Spa and wellness tourism. In 2015 it won an award for Best 4 stars spa hotel in Bulgaria awarded by the Bulgarian Association of Hoteliers and Restaurateurs. In 2016, Spa hotel Rich won the first place in the ranking of magazine "Tourism and Recreation".
Spa hotel Rich is a perfect choice. It's a completed combination of care for body and soul among the magic of nature and refined luxury. It is situated in the center of the town, in a park with singing and illuminating fountains, fabulous tents among ancient pine trees.
The complex is situated on a highly energy field. You can feel the energy immediately when you enter the complex. Nearby the hotel are located four of the biggest mineral springs in Velingrad. You will be charmed by our welcoming ritual because every guest is special for us.
Prices Info
Price includes:
All local transportation costs, 7 nights full board accommodation in DBL room, mechanic, safety car support, professional guides.
Supplement for SGL room: appx. 15 euro/day depending on the period.

Please notice that the fuel for the entire enduro camp is INCLUDED in the rental price!
The price for bike rental is 520 euro.
Price excludes: flight tickets to Bulgaria and back, riding gear & insurance (mandatory), spirits, lunch during the free day.
Booking
You have to follow a few simple steps to become a particpant in Sport Camps Bulgaria enduro / MTB camp.
Check the starting dates for your preffered camp in the calendar.
Check the availability for the preffered date / period.
If there is availability, please make your reservation sending us an e-mail with filled "Riders information form" (DOC or FORM) and any other information you want to share or questions you have.
1 day after you'll receive an official reply from Sport Camps bulgaria as a confirmation of your reservation as well as all the neccessary documentaton you'll need to finish your booking.
Fill & sign all the dosuments and sent them scanned via e-mail.
Make a dawnpayment of 30% from the camp price/fee and send the payment order via e-mail.
Bank data:
Unicredit Bulbank, Sofia, Bulgaria
IBan: BG 85 UNCR 7000 1520 6213 68
SWIFT CODE: UNCRBGSF
After receiving the documents and the payment we'll send you a final confirmation of your booking.
Anyway, we prefer to have personal contact with our clients via e-mail as well as filling the booking form below. So If you have any qustions, requirements or need of additional information, we'll be happy to contact us directly. In the "contacts" section of the web page you'll find the our details. Feel free to mail or call us.
RESERVATION FORM
The information is strictly confidential and will be used by Sport Camps Bulgaria according to it`s privacy policy (for details please check HERE)